Start and/or Grow Your Business in 6 Weeks
View Accelerate Evangeline flyer.
Like many small towns across South Louisiana, challenges are nothing new for Evangeline Parish, but like the heroine for whom the parish is named there has always been a spirit of creativity, ingenuity, and perseverance.  This spirit was a driver for Accelerate Evangeline, a start-up and small business program that focused on people, their dreams, ideas, and business interests.  The program was organized and led by Evangeline Chamber of Commerce and the LEED Center.
15 entrepreneurs completed the Accelerate Evangeline program and received a cerficate of completion. Accelerate Evangeline was open to individuals who had an idea for a business, wanted to turn a side hustle into a full-time business, or owned an existing business.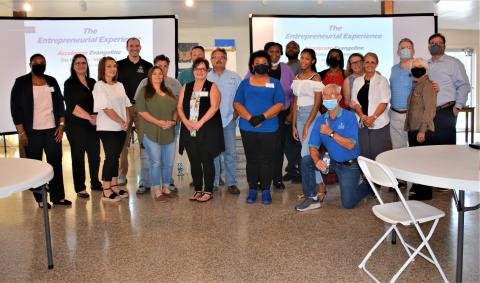 Program Benefits:
Hands-on & individual attention to help you start and/or grow your business
Opportunity to build a network with other business leaders
Successful business leaders as guest speakers & guides
Guidance & consulting after the 6 week program
Completion ceremony and certificate of completion
Accelerate Evangeline was held at The Hatchery - 5592 Vidrine Rd. (Located in Vidrine)
Saturdays, July 10th - August 14th, from 9:00AM - 1:00PM
Session Schedule:
Session 1 | Program Basics: The Entrepreneurial Dream
Session 2 | How to Get More Out of a Business Plan
Session 3 | What You Need to Know About the Numbers
Session 4 | Getting Resources When You Do Not Have Any
Session 5 | Customers Drive the Business
Session 6 | Operations and Other Fundamentals that Matter
Registration Fee: $450
*Registration waivers up to $425 are available to all applicants
*Remaining fees are paid to Evangeline Parish Chamber of Commerce
Questions about Accelerate Evangeline or the LEED Center?  Contact Jonathan Shirley,jshirley@louisiana.edu.