Message from Dean Fontenot:
Welcome to the B. I. Moody III College of Business Administration, where we provide a superior educational experience that prepares undergraduate and graduate students with the knowledge and skills needed to be leaders in the global business environment.  Students may select from 1 of 8 undergraduate majors and 3 graduate programs.
The diverse interests and backgrounds of our students help to enhance scholarship in the college.  Approximately 6 percent of undergraduate and graduate business students are residents of states other than Louisiana and 4 percent are from countries other than the United States, which means that 90 percent of our students are from the Acadiana region and areas throughout Louisiana.  The business majors are predominantly full-time students who also work more than 20 hours per week and have strong family ties.
Our outstanding faculty members are experts and leaders in their respective fields.  In addition to their strong academic preparation, our faculty members have extensive experience in a variety of industries.  They are acclaimed teachers and researchers who are actively engaged with students through classes, student organizations and extracurricular activities.
Strong alumni and business networks provide counsel to help the college retain relevant curricula.   They also provide internship and job opportunities to assist students in applying the knowledge they have gained in a real world setting. And, their generous financial support provides student scholarships and faculty development funds.
The Moody College of Business emphasizes quality and continuous improvement in all of our programs as is evidenced by the fact that we have consistently been named one of the Top 300 Business Schools in The Princeton Review since 2008 and have achieved accreditation of our programs.  We are accredited by the Association to Advance Collegiate Schools of Business, ranking us in the top 5 percent of the world's more than 13,000 business schools.  Additionally, our Accounting program is 1 of fewer than 200 schools that holds the AACSB Accounting Accreditation.
Our Hospitality Management program is 1 of only 9 programs globally that is housed in a college of business administration and is accredited by both AACSB and the Accreditation Commission for Programs in Hospitality Administration (ACPHA).  What all this means is that the faculty and staff in the Moody College of Business work to ensure that students receive the highest quality education and are able to be competitive in the marketplace.
We invite you to join us!
Dr. Gwen Fontenot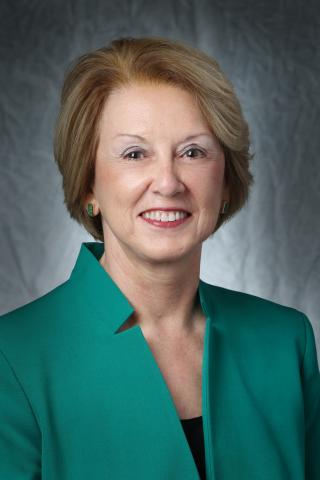 Dr. Gwen Fontenot was appointed as interim dean of the B.I. Moody III College of Business Administration in January, 2015.  Prior to being appointed as interim dean, Fontenot was head of the University's Marketing and Hospitality Department, and college internship director, from August 2006 until May 2013. She is also director of Study Abroad, a post that she has held since August 2014.  She has taught in the UL Italy Study Abroad program seven years and served as site director of the program three years.
As department head, Fontenot was responsible for integrating the University's hospitality management degree program into the College of Business Administration curriculum. She also assisted with the development of concentrations in sales, legal studies and international business, as well as several minors for business majors, such as professional sales, hospitality management, marketing, public relations and legal studies.
Fontenot led the Hospitality and Marketing Department in the development of an interactive sales and research lab and assisted in coaching sales teams participating in local, regional and national competitions.  She also led the department's efforts to attain accreditation for the University's hospitality management program by the Accreditation Commission for Programs in Hospitality Administration.  As Interim Dean she is leading the college's efforts to maintain accreditation by the Association to Advance Collegiate Schools of Business and to hire national scholars to fill five endowed chairs in various business disciplines.
Fontenot is an associate professor of marketing who has taught at Dallas Baptist University, LSU-Alexandria, the University of Northern Colorado, Texas Woman's University and the University of North Texas.