Moody Business Week
Monday, March 19, 2018 - 3:30pm

to

Thursday, March 22, 2018 - 8:30pm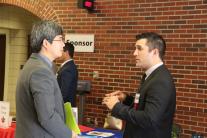 See you at Moody Business Week!
March 19-22
Monday, March 19
Career Closet Pop-Up Shop
9:00 a.m. - 11:00 a.m.
Moody Lobby
Need to get ready for your next job interview?
Get gently-used professional business attire for free thanks to Career Services!
Internship Panel
Moody 103 - 3:30 p.m.
Our Moody College of Business Internship panel provides first-hand details from employers and former interns so you know where to start and what to expect!
Tuesday, March 20
Build Your Brand Seminar
12:00 p.m. - Moody 103
Learn how to brand yourself to score a great internship and career with this event co-hosted by the UL Lafayette Office of Career Services.
Free Headshots for Business Students
10 a.m. - 2 p.m.; Moody Hall 2nd Floor Lobby
Register here and dress professionally
Wednesday, March 21
Moody College of Business Internship and Career Fair
9:30 a.m. - 12:30 p.m.; Moody Hall 1st and 2nd floor lobbies
Meet with dozens of companies searching for the best and brightest to join their teams. Dress to impress, and bring your resumes!
Thursday, March 22
Dining Etiquette Dinner
5:30 p.m. - 8:00 p.m.; Student Union Ballroom
Learn business & dining etiquette skills while enjoying a four course meal!
Ticket sales March 5 - March 7 from 8 a.m. - 5 p.m. in the Moody Hall 1st floor lobby
$20
Primary sponsor:
College of Business Administration - Moody