The B.I. Moody III College of Business Administration currently enrolls over 2,000 undergraduate students pursuing a Bachelor of Science in Business Administration (BSBA). Students major in eight areas of business: accounting;  economics; finance; hospitality management; insurance and risk management; management; marketing; and professional land and resource management. Currently,  over 225 graduate students are enrolled in our Master of Business Administration (MBA) program, our Executive Master of Business Administration program and our Master of Science of Accounting program.
History
The establishment of a College of Commerce was approved in 1952. The Board of Trustees approved the name change of the college to the College of Business Administration in 1980. Under the approval of the Board of Trustees and the Board of Regents, the College offers, at the undergraduate level, the Bachelor of Science in Business Administration (BSBA) degree.
In February of 1994, the Board of Regents approved a Health Care Administration option under the MBA; and in August 1994, the Board of Regents approved an Insurance and Risk Management concentration in Finance. In 1999, the BSAT department was formed through a splitting of the Management and Quantitative Methods Departments, and began accepting majors. B.I. Moody, III became the namesake of the College of Business Administration in 2002. Today, the college equally emphasizes teaching (60%) and intellectual contributions (30%) with emphasis on contributions to practice, followed by pedagogical, and finally discipline-specific scholarship). Service constitutes 10% of the participating faculty workload expectations.
In 2014-15, the budget for the college was approximately $6.9 million while the value of the endowment was nearly $13 million. Tuition costs per semester for undergraduate students begin at $3,424 for residents and $9,624 for non-residents, leading to UL Lafayette being recognized as one of the very best higher education values nationwide. Each of the undergraduate programs is 120 hours. The MBA program is 33 hours of core and elective courses (and 48 hours for non-business undergraduates). Continuing faculty members number 60. Thirty-three hold doctoral degrees and 3 hold JD degrees. Twenty-eight faculty members are tenured, 8 are tenure track, and 14 are non-tenure track faculty. The entire faculty consists of 80 individuals.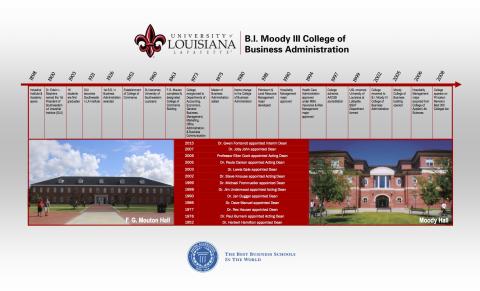 Click on the photo above to view a larger version of this timeline.