Northwestern Mutual Sales and Research Lab
The Northwestern Mutual Sales and Research Lab provides a learning environment for students to role-play sales presentations in an interactive, real-world business setting. Students utilize the lab to gain professional selling skills and knowledge. The Student Sales Progam and Student Sales Team utilizes the facility to practice for local, regional, and national sales competitions. The lab also fosters interaction between students and the business community in simulated professional sales scenarios.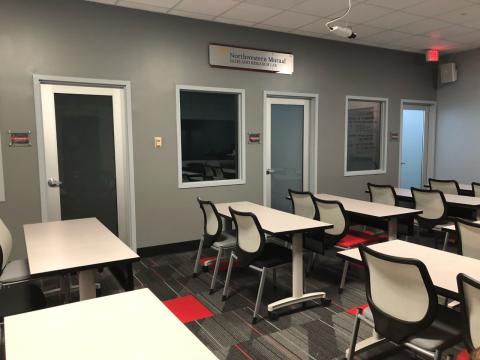 Northwestern Mutual Sales and Research Lab features:
3 soundproof role play rooms (Stuart Cestia Role Play Room, Steven Dugal Role Play Room, and the Will "Bill" Hornsby Role Play Room)
Focus group room with one-way glass
22 seat classroom
Each room is equipped with audio and video digital recording technology that allows for simultaneous live viewing of sales role-playing and real-time presentation critiques.
For more information, contact the Moody College of Business at moodybusiness@louisiana.edu.