Student Spotlight: Kaleb D. Fredericks
Wed, 03/28/2018 - 12:36pm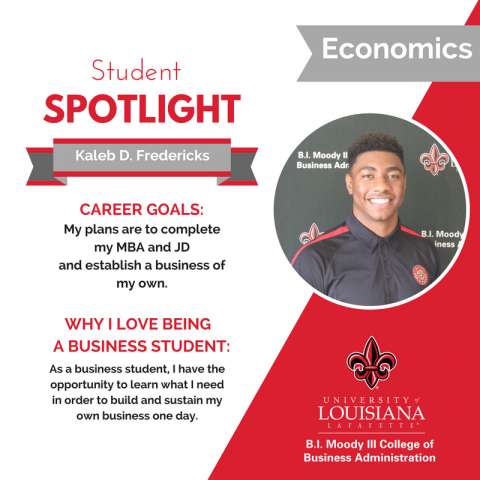 Meet Kaleb D. Fredericks, a junior majoring in economics. We are shining a spotlight on Kaleb because of his recent recognition as a scholarship recipient. 
Where are you from?  Gulfport, MS
What is your major?   Economics/Minor in Law
When will you graduate? Spring 2019
Why do you love being a business student? As a business student, I have the opportunity to learn what I need in order to build and sustain my own business one day.
What is your organizational involvement and work experience? I am involved in several campus organizations and community outreach. My work experience has been as a Certified Soccer Referee.
How long have you been involved in your organization? I have been involved in Student Government Association, University Program Council, and Ambassador for Future Alumni since 2017.
Are you involved in any other organizations, clubs, or jobs at the University? I am also involved in Law Club, BMLA, Soul Camp, The Big Event, and I am the President of Kappa Alpha Psi Fraternity Inc.
What is your favorite part of your organization? I enjoy many things about the organizations I am involved in.  I especially enjoy team building and sharing ideas/experiences.
How is your experience as a student and an organization leader at the College of Business preparing you for post-graduate success? My experience is establishing a strong foundation and knowledge of business. Post-graduate will build upon that in preparing me.
What are your plans for the future? My plans are to complete my MBA and JD and establish a business of my own.
Do you have any words of advice for current or future students? My advice is to enjoy every day but know you are here for a reason!
What are your other interests and hobbies? I enjoy fishing, swimming and weight lifting.
Is there something that you had wished we would have asked, and if so how would you answer? I wish you had asked what motivates me. I would answer
"me". I am excited and motivated to be GREAT in life!