Five student entrepreneurs you need to know
Wed, 07/08/2015 - 11:53am
Through the AcceleRagin' Business Incubator, a partnership between the B.I. Moody III College of Business Administration and the Opportunity Machine, UL Lafayette students are creating and maintaining successful businesses that are leading to even bigger opportunities. Meet five successful student entrepreneurs who are already making their dreams a reality.
1. Zach DuBois with CajunLures
Cajun Lures is a specialty fishing supply company, manufacturing hand-made soft plastic fishing lures "designed with Cajun ingenuity!" CajunLures has successfully launched its brand and had strong Q1 sales, driven by direct promotions and direct sales efforts. CajunLures is expanding in into wholesale sales via retail outlets around the Gulf Coast area.

Zach continues to utilize the resources of the AcceleRagin'/OpportunityMachine program. Learn more about Cajun Lures online and on Facebook.
2. Ryan Conway with CollegeAD
College AD is a sports business online media outlet and job platform operated by former UL graduate assistant Ryan Conway. College AD received $60,000 in private capital investment, and Ryan is in final discussion of partnership with RisingADs – an annual conference.
Most recently, Ryan was pursuing a strategic sales partnership. Check out College AD online and on Facebook.
3. Nicholas Laborde with Raconteur Games
Raconteur Games is an indie game development studio that successfully launched a demo version of its game, Close Order, on Steam's Greenlight platform.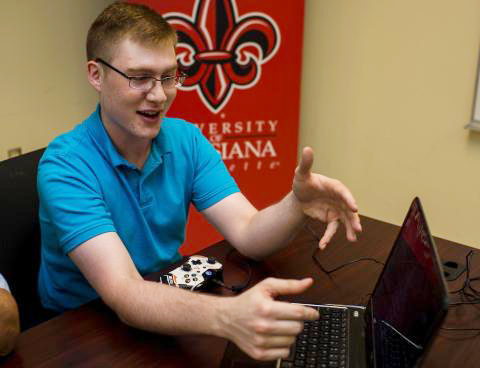 After its launch, Raconteur Games received praise from the head of Xbox (a Microsoft gaming platform) for the game. This month, Raconteur Games will have an early access release when gamers can buy Close Order for a discounted price, and those players will provide feedback until the game's official release at the end of this year.
Raconteur Games recently received $10,000 in private funding for additional staff support. The Raconteur team has been using the Opportunity Machine space, and its team members — who are from all over the U.S. — met face-to-face and worked side-by-side for the very first time in June.

Nicholas and Raconteur Games continues to utilize the resources of the AcceleRagin' program via video production, facility use and sales consulting. Nicholas was recently featured in ABiz and The Daily Advertiser, as well as spotlighted in local media outlets for the upcoming game release of Close Order.
4. Blake Lemoine with Intellegat
Intellegat, an artificial intelligence company that works with big data, was created by former UL Lafayette doctoral student Blake Lemoine. Blake and Intellegat caught the attention of Google, and Blake received an offer for a position he could not refuse. He is now working at Google in Silicon Valley as a software engineer.
5. Rolin Piper with POP App
POP App is movie theater concession pre-purchasing mobile application. Rolin Piper has secured a presentation meeting with the operation leadership of the Grand Theatres'
ownership group, which manages over 24 theaters across the Southeast. Rolin is currently developing the application and is working with AcceleRagin' to define final development pricing, as well as possible partnerships.

Rolin had continued to utilize the AcceleRagin' program with sales consulting, design support, financial planning and negotiation training. He is currently seeking funding for or partnership with an app developer.