Moody College of Business Raffle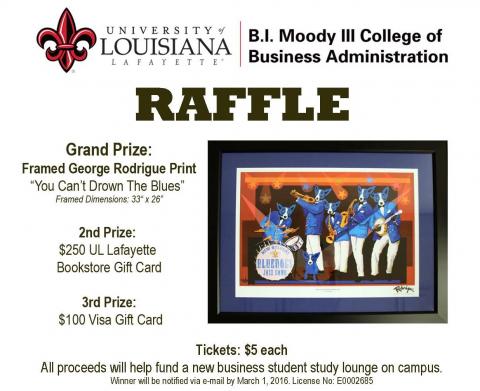 Win a framed George Rodrigue print or other great prizes and help the B.I. Moody College of Business Administration students fund their student lounge by purchasing your raffle ticket(s) below. The price per ticket is $5, and the minimum purchase for online tickets is two for $10. To purchase single tickets, please contact one of the representatives listed on http://business.louisiana.edu/current-students/organizations-associations.

The drawing for the prizes will be Tuesday, March 1, 2016, at the Dean's Office in the B.I. Moody III College of Business Administration at 214 Hebrard Blvd. The framed print will be on display in the Dean's Office until February 25th, when ticket sales end.

You will receive a receipt confirmation via email in lieu of a ticket being mailed to you. You must be 18 years or older to purchase tickets. You do not need to be present to win. The winner agrees to have their name, voice or likeness used in any and all advertising or broadcasting materials relating to this raffle, without compensation. It is the winner's responsibility to claim their prize within 30 days and be responsible for delivery charges. The winner is responsible for taxes. All proceeds benefit the B.I. Moody III College of Business Administration. License No. E0002685

Thank you for your support of our Moody College of Business Students!